Debian Mailing Lists
debian-companies
discussions about companies offering Debian support and contributing back
Discussions about the needs of companies that contribute to, offer support for, or have other strategic interests in Debian.
List participation is restricted to representatives of companies that offer Debian-specific support or services and that are determined to contribute to Debian.
As an approximation of the above, subscription requests will be verified against the following criteria:
- the requested subscription address should be a company address (i.e. its domain name should correspond to a company website)
- the company should advertise on its website Debian-related support or services, mentioning the Debian name or logo, and linking back to the Debian website (please provide a link to that page in your subscription request)
- preferably, the person participating in the list should be able to speak as a company representative, at least for the topics of interest of the mailing list
This list is not moderated; posting is allowed by anyone.
Posting address: debian-companies@lists.debian.org
Subscribe / Unsubscribe
See these hints if you're having trouble unsubscribing
Archives
This mailing list has no archive.
The list either isn't archived at all (on this server), or it can't be archived publically, or it hasn't received any messages to be archived yet.
Statistics
Excerpt from the list usage statistics pages: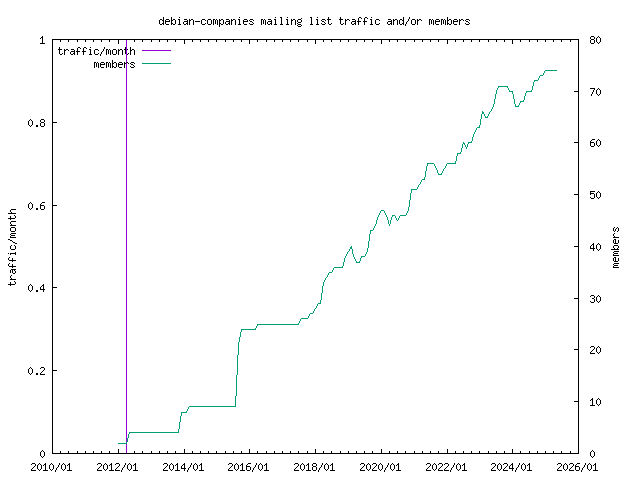 , .